During my childhood, I heard countless stories about my family.
My grandfather Pedro Eduardo Guerrero was the personal photographer for Frank Lloyd Wright as well as a sought-after photographer for publications like Harper's Bazaar and House & Garden.
My great-grandfather Pedro Warner Guerrero turned his one-truck sign-painting business into one of the best-known firms in the Southwest. Inspired by his wife's tamales, he also founded one of the first commercial Mexican food companies in the nation.
While I never intentionally set out to follow in their footsteps, their stories inspired me, motivated me, and shaped me into who I am today.
The Entrepreneur
My great-grandfather Pedro W. Guerrero was born in 1896 in Solomonville, Arizona, when the state was still a territory. He was orphaned by the age of thirteen, but even though he was just a kid, my great-grandfather was scrappy. He was enterprising. He—as we say here at Guerrero—had grit.
He was hired as an errand boy in a general store (it came in handy that he not only spoke Spanish and English but also understood Pima). He also began lettering store placards, eventually founding a sign-painting company called Guerrero-Lindsey in 1918. In the late 1940s, he created Rosarita Foods, basing it on the recipes of his wife, Rosaura.
But growing up, what stood out for me wasn't that my great-grandfather was involved in the founding of Rosarita or that he had a school named after him posthumously. What I remember is sitting around the dinner table, listening to my great-grandfather—a gifted storyteller—talk about his life . . . and then later, after his death, delightedly listening to those same stories being repeated by the next generation.
The Artist
My grandfather Pedro E. Guerrero was Pedro W. Guerrero and Rosaura's second son. A talented artist, he enrolled at the Art Center School in California, intending to study painting but opting for photography when he was told the painting classes were filled. It was his lucky day: he fell in love with the camera.
After a year, though, he returned home without a job. That's when his father, a born networker, suggested his son see an architect he'd met in a paint store—maybe the architect needed a photographer.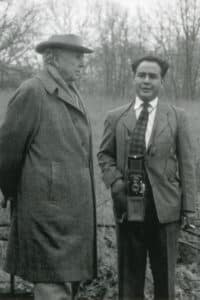 According to the family lore, that was the first time my grandfather ever listened to his father. But it was a good thing he did. The architect in question was Frank Lloyd Wright, and when my grandfather showed Wright his student portfolio, he was hired on the spot.
Though only twenty-two, Pedro E. Guerrero went on to take iconic images of Wright and his architecture, as well as photographs of Alexander Calder, Philip Johnson, and Louise Nevelson. He spent the better portion of his career working in media, taking on photographic assignments for historic magazines.
The Community Leader
My grandfather and great-grandfather were by no means the only role models I had as a child. Like so many Latinos, my father—Peter Marc "Marcos" Guerrero—grew up feeling caught between two worlds. But he developed a passion for his Mexican heritage, and for the Spanish language, and after he earned a master's in education from Stanford, he found a calling in bilingual education.
More than a teacher, my father was a mentor and community organizer. When he was not talking about his students and other kids in the community, he was taking meetings with the city or other teachers, or leading activities through his church. His example of servant leadership inspired our company's core values around giving and gratitude.
The Storyteller
Despite all the extraordinary leaders in my family, I enrolled at Bowdoin College with just a vague idea of what I wanted to study. I knew I wanted to help the Latino community, and I considered studying history, political science, even law. Then I began to take art courses and connect with that part of myself. Soon, I found my footing.
For a long time, though, art was the clearest connection I saw between myself and my family lineage. For me, entrepreneurship was never in the picture. While I respected and admired my great-grandfather's legacy, I never gave business any serious thought—it wasn't even a part of my immediate family's dinner table conversations. But on the day I founded Guerrero, the bridge between art, business, and community impact became clear.
Every day at Guerrero, we make it our mission to tell the stories of highly accomplished executives from all backgrounds. Those executives share with us their family histories, their journeys, their challenges, and their dreams for the future. It's through the power of storytelling that we make meaningful connections that inspire us and others, and through storytelling that we drive real change across the business world.
I hope my family would be proud of what we've built. The elements of what we do now is the fruit of seeds planted generations ago.